Screwtape Letters Wk 6 of 7
Screwtape Letters Week 6 of 7
The Majesty of Tragedy…
But when he saw them he knew that he had always known them and realized what part each of them had played at many an hour in his life when he had supposed himself alone, so that now he could say to them one by one, not 'Who are you?' but 'So it was you all the time.' All that they were and said at this meeting woke
memories. The dim consciousness of friends about him which had haunted his solitudes from infancy was now at last explained; that central music in every pure experience which had always just evaded memory was now at last recovered. – The Screwtape Letters, p. 173-174 (Chapter 31, Paragraph 4)
I would not be surprised at all to learn that C.S. Lewis used this passage as the overarching theme for The Horse and His Boy, the third book in the famed Narnia series (at least third chronologically).
Several years ago, my children and I had just finished reading  The Horse and His Boy when Hurricane Katrina tore its way through New Orleans and destroyed the gulf coast from Central Florida to Texas. In the coming days, like the rest of the country, we were riveted to the news. My oldest was only six, but he and his four-year-old brother asked the same question that was being asked by thousands of others at the time:  How could a loving God allow something like this to happen?
It's possible that The Horse and His Boy became my favorite Narnia book specifically because of Hurricane Katrina. In it, the main character, Shasta, as well as his companion Aravis, and their horses, Bree and Hwin, endured many hardships throughout their adventures together.
At one point, Shasta was starving, and walking alone through the pitch black night, feeling terribly sorry for himself in the midst of all his misfortunes. Sudden fear forced him to turn his focus from his sorrows when he sensed a large creature walking alongside him. Mentally, he tried to strategize how he was going to save himself, but no matter how hard he thought, he could not figure out how to get away. Finally, he could stand the deafening silence between himself and the creature no longer, so he began to speak:
"Who are you?" he said, scarcely above a whisper.  

"One who has waited long for you to speak," said the Thing. It's voice was not loud, but very large and deep.

"Are you – are you a giant?" asked Shasta.

"You might call me a giant," said the Large Voice. "But I am not like the creatures you call giants."  

"I can't see you at all," said Shasta, after staring very hard. Then (for an even more terrible idea had come into his head) he said, almost in a scream – "You're not – not something dead, are you? Oh please – please do go away. What harm have I ever done you? Oh, I am the unluckiest person in the whole world!"  

Once more he felt the warm breath of the Thing on his hand and face. "There," it said, "that is not the breath of a ghost. Tell me your sorrows."  

Shasta was a little reassured by the breath: so he told how he had never known his real father or mother and had been brought up sternly by the fisherman. And then he told the story of his escape and how they were chased by lions and forced to swim for their lives; and of all their dangers in Tashbaan and about his night among the tombs and how the beasts howled at him out of the desert. And he told about the heat and thirst of their desert journey and how they were almost at their goal when another lion chased them and wounded Aravis. And also, how very long it was since he had had anything to eat.

"I do not call you unfortunate," said the Large Voice.

"Don't you think it was bad luck to meet so many lions?" said Shasta.

"There was only one lion," said the Voice.

"What on earth do you mean? I've just told you there were at least two the first night, and -"

"There was only one: but he was swift of foot."

"How do you know?"

"I was the lion." And as Shasta gaped with open mouth and said nothing, the Voice continued. "I was the lion who forced you to join with Aravis. I was the cat who comforted you among the houses of the dead. I was the lion who drove the jackals from you while you slept. I was the lion who gave the horses the new strength of fear for the last mile so that you should reach King Lune in time. And I was the lion you do not remember who pushed the boat in which you lay, a child near death, so that it came to the shore where a man sat, wakeful at midnight, to receive you." 
Throughout the book, adventures which had appeared as grave misfortunes worked together to serve their ultimate purpose, to reunite Shasta with his father, King Lune, and his long lost twin brother and to bring Shasta to his rightful position as heir to the throne in Archenland.
When bad things happen, with great exasperation, we look up, shake our fists and ask WHY?!!!  Why did tornadoes destroy so many homes and lives in Oklahoma?  Why the bombing at the Boston Marathon?  Why did my father/mother/sister/friend/child have to die of cancer?  Why was that child abused by the people who were supposed to love him most?  Why did my husband lose his job?  Why? Why? Why?
But don't we share Shasta's ultimate purpose?  To be reunited with our Father and Brother and to inherit the Kingdom of Heaven?  Perhaps our misfortunes too, work together for our greater good, leading us out of exile and back to our own Father's home, where we belong.
St. Paul tells us that we are "heirs of God and fellow heirs with Christ, provided we suffer with him in order that we may also be glorified with him" (Romans 8:17).  If this is true – and it is – then rather than wallow in our sufferings, we should follow St. Paul's example and actually rejoice in them (Romans 5:3; Colossians 1:24).
The fact is, we may not understand why bad things happen.  But in the midst of every tragedy, as we pick up the pieces and help those around us, we should remember that there is a big picture. We just can't quite see it yet.
As Father Robert Baron explains in his book, The Strangest Way, "…we are like a person surveying Georges Seurat's pointillist masterpiece Sunday Afternoon on la Grand Jatte with his nose pressed against the canvas. That picture reveals its meaning only as one steps back from it, and the colors begin to blend and the lights and darks gradually arrange themselves into patterns. What we see of God the Artist's work are bits and pieces of His studio or one tiny corner of His endlessly complex pointillist canvas."
But one day, we will back up and see the painting as it was meant to be seen – at a distance, in all it's grand majesty.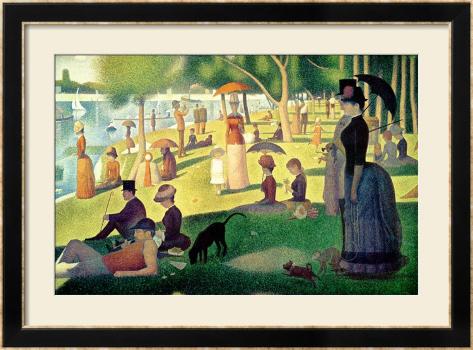 And at that moment, by God's grace, we'll be able to say (as Screwtape foretells), "So that was you all the time."
For now, when those moments come that we do not understand…we must bow our heads and pray, "Jesus, I trust in You."
NOTE:  Announcing our Next Book: The Secret Diary of Elisabeth Leseur (Beginning July 30, and lasting approximately 10 weeks)
Reading Assignment:
  Screwtape Proposes a Toast
Note:  While you're reading along (and even if you can't), make sure you check out this magnificent Radio Production of The Screwtape Letters by our own Paul McCusker. Excellent Production!
Discussion Questions:
1.  Do you sometimes find yourself angry with God or feeling sorry for yourself because of your misfortunes?  If so, is there anything that helps you to correct your focus and remember the "big picture"?
2.  Please comment on anything from this past week!
Read more: Previous Book Club Posts
For More Information on the Book Club: https://spiritualdirection.com/csd-book-club

please consider supporting our mission with a donation!